ANNUAL HEROES PATRIOTIC LUNCHEON
2022 Luncheon Keynote Speaker, Major General Patrick Henry Brady, USA
Patrick Henry Brady attended O'Dea High School in Seattle, Washington, a strict, all-boys school run by the Congregation of Christian Brothers, where he was active in sports.
During his first tour in Vietnam, then-Captain Brady served with the 57th Medical Detachment, where his commanding officer was the legendary Major Charles Kelly. After Kelly's death on July 1, 1964, Brady took command of the 57th Medical's Detachment A in Soc Trang. The following day, a Commander tossed the bullet that killed Kelly on Brady's desk in front of CPT Brady and asked if they were going to stop flying so aggressively. Brady picked up the bullet and replied, "we are going to keep flying exactly the way Kelly taught us to fly, without hesitation, anytime, anywhere."[4] On his second tour, Brady, now a Major, was second in command of the 54th Medical Detachment. It was during this tour that Brady was awarded his Congressional Medal of Honor.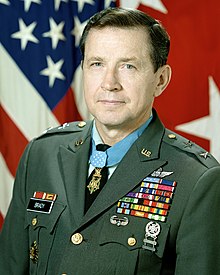 During his two tours in Vietnam Brady flew over 2,000 combat missions and evacuated more than 5,000 wounded.  After Vietnam Brady continued serving in the US Army, retiring as a Major General in 1993 after 34 years of service. He now serves as Chairman of the Citizens Flag Alliance, an organization dedicated to protecting the American flag from desecration.
2022 Honorary Luncheon Chairman, David McIntyre Jr., President and CEO – TriWest Healthcare Alliance
David J. McIntyre, Jr., is President and CEO of TriWest Healthcare Alliance. In 1996, Mr. McIntyre co-founded TriWest Healthcare Alliance and has since led the corporation, which is working to ensure that Veterans in roughly half the nation have access to high-quality health care when it is unable to be provided directly by the Veterans Administration.
Mr. McIntyre has more than 30 years of experience, success and accomplishments in national health care policy development, business development and leadership in both government and the private sector.
Mr. McIntyre has a bachelor's degree in political science from Seattle Pacific University, a master's degree in administrative sciences (with an emphasis in management and health policy/administration) from Johns Hopkins University, and he participated in the Executive Education Program for Senior Government Managers at Harvard University.
In addition to leading TriWest Healthcare Alliance, he serves on a number of non-profit boards, including the Congressional Medal of Honor Foundation Board of Directors and the Fisher House Foundation Board of Trustees.
Join us at the Veterans Medical Leadership Council's 20th Annual HEROES PATRIOTIC LUNCHEON held on November, 10th at the Arizona Biltmore.
Sponsorships available. Please contact Tom Eisiminger at 360.433.8937 or info@arizonavmlc.org.
Six honored members' at the VMLC Luncheon
Thank You to our 2022 Presenting Sponsors